Nonfiction

Handbook Of Common Mental Illnesses
In Singapore
Dr Christopher Cheok and Dr Lim Boon Leng
MENTAL ILLNESS EXPLAINED CLEARLY
THIS book explains in simple and clear terms what mental illness is all about, its causes and treatment options available. The common mental illnesses discussed are:
• Post-Traumatic Stress Disorder
• Major Depressive Disorder
• Obsessive Compulsive Disorder
• Panic Disorder
• Generalised Anxiety Disorder
• Suicide and Self-Harm
• Schizophrenia and Other Psychoses
• Bipolar Disorder
• Gambling and Internet Addiction
• Alcohol Addiction
• Dementia
• Attention Deficit Hyperactivity Disorder
• Sexual Dysfunction
The authors use illustrative examples. They also discuss how to prevent depression and achieve well-being.

Will To Fight
Dr Christopher Cheok

ARE You Ready For NS?
This book offers some pointed advice for all who have to deal with National Service in one way or another. You'll find quick answers to many questions, including those on mental health. Topics include:
• How to prepare for NS
• What to expect during NS
• Tips for the Gen Y soldier
• How to handle situations in the army
• How to identify mental problems early
• What to do if you are stressed
• Techniques to relieve stress
• Where and when to get help
• How to prepare for leadership
• Managing soldiers
• Common mental problems
• Tips for parents
• How to support children in NS
Presented in an easy-to-read format.

David Brazil's No Money, No Honey!
A CANDID look at sex-for-sale in Singapore. With the help of over 70 pictures, this book reveals a forbidden but thriving side of Singapore! It has spent more than 100 weeks on the Times Bestsellers List — an all-time Singapore record! Over 100,000 copies sold and the title is into its fifth edition.

Awakenings
Dawn Tan
THE sequel to Broken Mirror is a book of hope. Awakenings is a collection of 10 stories that celebrate the indomitable human spirit. The individuals, who share their personal, traumatic experiences, demonstrate true courage as they battle to extricate themselves, however painfully, from drug addiction. Their struggles and victory are inspirational.

Broken Mirror
Dawn Tan
THE stories in this book collectively describe the horrors of the world drug abusers find themselves in. For some, there's hope while others wait for their date with the hangman with no chance of a reprieve. The addicts are not alone: Teachers, parents, children, lawmen, traffickers and counsellors tell their side of this complex and sad story. This collection will challenge you to re-examine your views on drug abuse, crime and punishment and even life and death.

Khameleon
The Elyamani Khamis Story
Dawn Tan
KHAMELEON: The Elyamani Khamis Story is the revealing account of the $100 million scandal that shook Singapore in the early nineties. It exposes Khamis, the man at the heart of it, and his flashy lifestyle — the women, the money and the heady good times. Read the story of how one man fooled the biggest banks in Singapore and mesmerised many for a few, scintillating years.

Excuse Me, Are You A Model?
Bonny Hicks
THIS expose of the modelling and fashion world is the most talked about book in the annals of Singapore publishing. All 12,000 first print-run copies of the life story of top Singapore model Bonny Hicks sold out in just three days, and another 45,000 copies have been sold to date. This latest print-run has more than 60 new pictures and 30 colour pages. Hicks died in a plane crash in 1997, receiving posthumously the recognition she desperately sought all her life.
Also by Bonny Hicks: Discuss Disgust

Excuse Me, Are You An Actress?
Eileen's Secrets
Eileen Wee
A YOUNG, beautiful, rising star in the growing film, television and entertainment scene in the country, Eileen Wee reveals her experiences and offers an insider's account of the workings and personalities of celluloid Singapore. A brutally honest and fascinating read.

Got Singapore
Richard Lim
IT WAS probably a first in the long history of The Straits Times, a personal essay that took up an entire 16-page section of the paper. That essay, published on National Day in 1989, and which won the in-house Story of the Year award, is a reflection of the changes that accompanied Singapore's independence as a nation, and how these changes, from the 1960s through to the 1980s, shaped one Singaporean in his growing-up years. Although a personal testimony, it resonated with many other Singaporeans. Published again in this collection of essays and columns, it will certainly help younger readers understand the context in which the country's baby-boomer generation grew up. The essay, together with the other pieces which were picked from among the author's published writings, is really "A Singapore Story", hence the very Singaporean title of this book, Got Singapore. It is Singapore literature, even if written on the run.

Ghosts: A Christian's Encounter
Ravi Pillai
THE author lived in a haunted house for a year. In this suspenseful book, he recalls his ghostly encounter, not sparing any gruesome details. Chairs and doors that move on their own accord, vanishing men, the appearance of ugly, evil spirits — these occurrences would have frightened away many, but not the writer whose testimony shows that in encounters with the dark forces, you can be the victor, not the victim. In relating his true-life story, Ravi Pillai hopes to nourish and refresh others, and strengthen their faith in the power of the living God.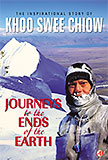 Journeys To The Ends Of The Earth
Khoo Swee Chiow
KHOO SWEE CHIOW is the first Southeast Asian and fourth in the world to complete the "Adventure Grand Slam": The North and South Poles and the Seven Summits. His is an unlikely story. Plagued by a fear of heights during childhood, Swee Chiow's love for adventure would see him eventually standing at the top of the roof of the world, Mount Everest. His first key success, Africa's Mount Kilimanjaro, fuelled his dreams and fired his imagination. Despite many near-death experiences, the extreme cold, financial and physical distress, severe loneliness, tears and failures, his iron will and sheer determination kept him going until he achieved his goals. This is the inspiring story of the real Khoo Swee Chiow, the story behind the headlines.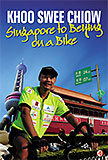 Singapore To Beijing On A Bike
Khoo Swee Chiow
KHOO SWEE CHIOW made history when he completed the Adventure Grand Slam, conquering the North and South Poles and the Seven Summits. A man driven by adventure, Swee Chiow is constantly in search of the next test that will push him to the extreme.

In 2003, he embarked on another challenge: To cycle from Singapore to China, in search of his roots and in the name of friendship. In this journal, he lets us ride pillion as he pedals across 8,000 km into Malaysia (and his place of birth in Port Dickson), Thailand, Laos and Vietnam, before reaching his final destination, Beijing. More than a travelogue, this account gives a deeper insight into what motivates the man — that even in his darkest, lowest moments, Swee Chiow finds hidden reserves to soldier on and achieve his "impossible dreams".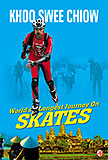 World's Longest Journey On Skates
Khoo Swee Chiow
NOT content with scaling the highest mountains in the world and achieving other superhuman feats, Singaporean adventurer Khoo Swee Chiow undertakes another challenge: to set a Guinness World Record for the longest journey on skates. This book chronicles his 94 days on the road, skating more than 6,000 kilometres from Hanoi to Singapore. Swee Chiow's adventure takes him over rivers, through chaotic city traffic, across steep and remote mountain passes and villages in Vietnam, Cambodia, Thailand and Malaysia. Part travelogue, part adventure diary, World's Longest Journey On Skates gives us an insight into the conquering mindset of Southeast Asia's greatest adventurer.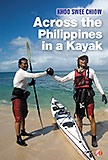 Across The Philippines In A Kayak
Khoo Swee Chiow
KHOO SWEE CHIOW, Singapore's extraordinary record-breaking adventurer, sets himself the challenge of traversing the Philippines in nothing more than a kayak. Setting out in the name of friendship, Swee Chiow and Filipino partner Buzzy paddle over 3,000 kilometres. The journey is anything but smooth sailing for Swee Chiow has to battle raging seas, strong currents, the notorious typhoons of the Philippines, and even hostile gunmen. As he's about to complete his trip, he faces certain death when strong currents sweep him out into sea. Throughout the trip, Swee Chiow is touched by the hospitality of the Filipinos. They come to his aid time and time again. This is Swee Chiow's inspirational account of yet another amazing triumph of his indomitable spirit over impossible challenges. This book gives us a glimpse of the mind and heart of the man who has conquered Mount Everest three times, achieved the Adventure Grand Slam, and holds two Guinness World Records.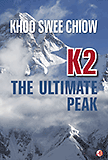 K2: The Ultimate Peak
Khoo Swee Chiow
KHOO SWEE CHIOW takes on his ultimate and most dangerous challenge yet: K2. He is the first Singaporean and first Southeast Asian to summit this mighty peak. Nicknamed the "Savage Mountain" for its remoteness, ruggedness and unpredictable weather, K2 is the holy grail of mountaineering. One in four climbers who attempt it doesn't return, a death rate six times higher than Mount Everest's. As if the severe conditions on the mountain weren't challenging enough, Khoo has to deal with an eye problem that leaves him with blurred vision for part of the way. With death never far on the mountain, it takes calm nerves, a steely focus and a bit of help from nature to reach the summit. This is the sobering, detailed and inspirational account of Khoo's triumphant climb.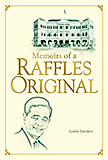 Memoirs Of A Raffles Original
Leslie Danker
NOBODY knows Raffles Hotel like Leslie Danker. Memoirs of a Raffles Original is the story of one man and his unique relationship with Singapore's most iconic property. Leslie Danker is the only person in Singapore to have personally experienced the many incarnations of Raffles Hotel: from bastion of colonial prestige, to fading icon, and now, the country's premier symbol of luxury and hospitality. In this wistful and humorous autobiographical account, he retraces his nearly four decades of service; from his humble start in the maintenance department tending to clogged toilets to becoming its very first Resident Historian, sharing the hotel's storied past with celebrities, dignitaries, VIPs, and now, you.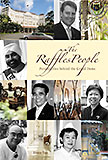 The Raffles People
Personalities Behind The Grand Dame
Dawn Tan
EVEN as Singapore has grown and developed from sleepy fishing village to international capital, so too has Raffles Hotel evolved into one of the island's greatest ambassadors. Yet, despite her illustrious history, little has ever been written about the inner machinations of the iconic hotel, which has earned the apt sobriquet of the "Grand Dame".

You will not find the history of Raffles Hotel neatly laid out in these pages, nor reams of black and white photographs that speak of the long departed. Instead, you will find what is alive in the heartbeat of the Grand Dame today, portraits of rare individuals who come together to epitomise what is unique about the ethos of the hotel: The art of unparalleled service. These are individuals whose contributions of labour and love, as part of the Raffles' unique family, pave the way for her future ahead.

Confessions Of A Struggling Actor
Lim Poh Huat
LIM POH HUAT is your average HDB guy who has given up dreams of being a film star. In fact, he finds it tough landing enough roles even as an extra. Still, he's thrilled to have worked alongside almost every bigwig in the entertainment industry, including Leslie Cheung, Fann Wong, Zoe Tay, Kym Ng and Andy Lau. This is an honest, down-to-earth story of the struggles of one Singaporean heartlander seeking his place in the sun.

Terror In Bali
An Eyewitness Account
Alan Atkinson
YEARS have passed since the Bali bomb blasts but memories remain fresh of the mindless horror on the night of October 12, 2002. This is an eyewitness account of the blasts and is offered in the hope that it will help in the healing process. This book is a record of the Bali that was, the blasts and the immediate events that followed. It is published as it is written, with the hope that a new Bali will emerge from the ashes. Australian Broadcasting Corporation journalist Alan Atkinson was on holiday in Bali with his family when he received a call early Sunday morning that something catastrophic had occurred at Kuta. He was one of the first western journalists on the scene to file reports about the blasts. His account of the blasts is set against the backdrop of an idyllic Bali that offered tired holiday-makers a smile and endless hours of relaxation and fun — a perspective which makes the tragedy even more acute.

Diary Of A Sailor
Capt Frederick Francis
THE Diary Of A Sailor is the story of Captain Frederick Francis, one of Singapore's most decorated sailors. This book details his progress from cadet to captain, life on the high seas, encounters with pirates, romantic exploits and even contains bargain haunts from around the globe. A compelling read by a sailor who is also a skilled storyteller.

China Roots
Mark Tan
THE true account of a man who struggled to survive in early Singapore. Arriving with nothing, Beng Khay strives to attain a meaningful life for himself and the freehold for the future of his family.

Memories Of Chin Swee Road
Mark Tan
THIS book takes a look back at life in the 1950s and 1960s in the Chin Swee Road enclave. The author recounts the many characters in the drama that unfolded in this neighbourhood, set against the backdrop of a rapidly modernizing Singapore. With the help of sketches and maps drawn from memory, the author's detailed narrative of street life is a contribution to the continuing Singapore story. These vignettes will jog memories of older readers, and hopefully more will be inspired to tell their own stories for the record. For youngsters, this book is a window to bygone days. Young or old, we all need answers to perennial questions about our sense of belonging and our roots. Memories of Chin Swee Road aims to help in this quest.

Oscar
Mark Tan
OSCAR was a Eurasian who was born in Singapore in 1917, and this story follows his antics as a youth without much benefit of adult supervision. He later encounters life, as many will never experience, when a country is at war. It includes his stint as a gaoler in Outram Prison overseeing prisoners facing torture and death during the Japanese occupation. This dispassionate but detailed account conveys the comedy of life amidst the immediacy of terror during those years. It is a story of friendships, relationships and human frailties under intense stress. Oscar's story, retold from a unique perspective, provides graphic lessons of an almost forgotten past. It is also a chapter of the Singapore story narrative.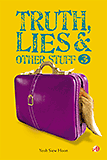 YEOH SIEW HOON is one of Asia's most respected travel writers. Her career in travel trade publishing spans over 30 years.
Truth, Lies & Other Stuff 3
Yeoh Siew Hoon
THIS refreshingly funny collection of essays are from The Transit Cafe website, which was started by Siew Hoon. The travel editor has a gift for writing on the run and in this edition, we get to meet interesting characters through her travel tales — from Rolling Stone Ronnie Wood to King Kong and CNN's Richard Quest. You'll be taken on a whirlwind tour of Shanghai, Sydney, Penang, Luang Prabang, Siem Reap, and Singapore, where Siew Hoon now resides.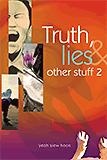 Truth, Lies & Other Stuff 2
Yeoh Siew Hoon
THIS is Siew Hoon's second collection of Talking Point columns for TravelWeekly and contains more witty insights into what makes the travel world go round. In her 24 months' worth of anecdotes, revelations and observations, Siew Hoon manages to cut right to the heart of issues yet always manages to make you smile.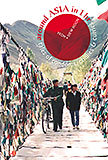 Around Asia In 1 Hr
Yeoh Siew Hoon
THIS book is a compilation of travel tales about Asia told from an Asian perspective. A world traveller for more than 20 years, Siew Hoon cuts through clutter with an irreverent style. Read this fully-illustrated book and come to grips with an Asia often seen as mystical and magical. Siew Hoon is one of Asia's most respected travel writers and her columns are well-received by the travel industry worldwide.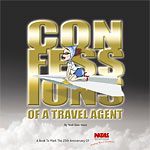 Confessions Of A Travel Agent
Yeoh Siew Hoon
MEET Singapore's chefs of travel — travel agents who are constantly cooking up new recipes for the best holidays your money can buy. They know where to get the best deals and the latest hotspots, but what really makes them tick? Here, they finally confess, revealing their trade secrets, entertaining travel stories and must-know travel tips.
The content and graphics contained in this site are copyright
© 2021 Flame Of The Forest Publishing Pte Ltd. All rights reserved.