What's New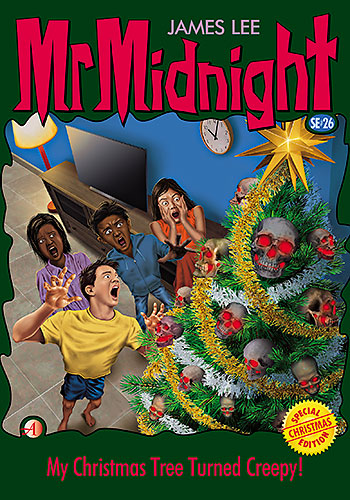 MERRY CHRISTMAS and a HAPPY NEW YEAR! James Lee presents a new Mr Midnight for the holiday season. And remember to get any missing books in your JAMES LEE collection!
Mr Midnight Christmas Special Edition SE#26
James Lee
My Christmas Tree Turned Creepy!
EVERYONE loves the night before Christmas! There's excitement in the air, Santa is on his way, and Christmas Day is almost here. But suddenly Reynold Ler's Christmas tree is full of horrors. In fact, it's decorated with the heads of the dead! Soon, Reynold and his friends will face the weirdest ghosts and strangest beings you could ever imagine. What happens? Find out — when Mr Midnight turns on page after page of spine-tingling holiday ho-ho-horrors in MY CHRISTMAS TREE TURNED CREEPY!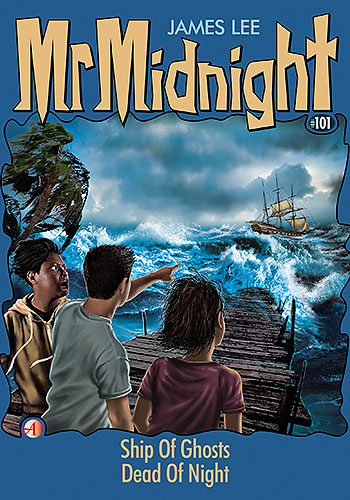 MR MIDNIGHT is one of the longest-running book series in the world! This latest is MM #101. Readers have a huge selection to choose from. And the low prices remain unchanged!
Mr Midnight #101
James Lee
Book #101
STORY #1: Jastina Yip and her friends Maisarah and Jerral are kidnapped from their beachside chalet during a storm. Trapped on board the SHIP OF GHOSTS, they seek to escape from being carried back in time — forever!
STORY #2: For the first time ever, one of Mr Midnight's stories is told by the ghost of a murdered man himself. A tale of death and revenge! In the DEAD OF NIGHT, can this good ghost save Lucy Tan's life? Or will an evil ghost defeat him?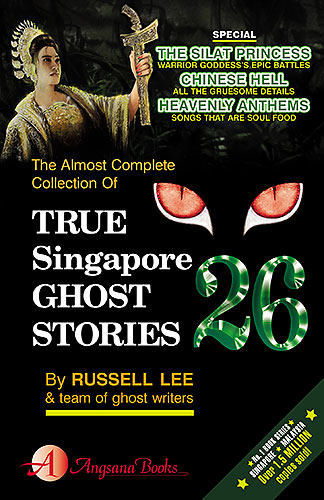 True Singapore Ghost Stories Book 26
Russell Lee
A FAMILY down on their luck takes a holiday in Kuantan. An unexpected series of events turn their world upside down. THE SILAT PRINCESS, a benevolent being, intervenes to help. But the warrior goddess has epic battles of her own to fight. Must-read stories include Old Habits Die Hard, V For Vigilante, Revenge Of The Pontianak, The Old Man Of Lavender, Heavenly Anthems, Delivery By Hand, Coney Island Escapade.
"Russell Lee is something of a Singapore institution." — Time Out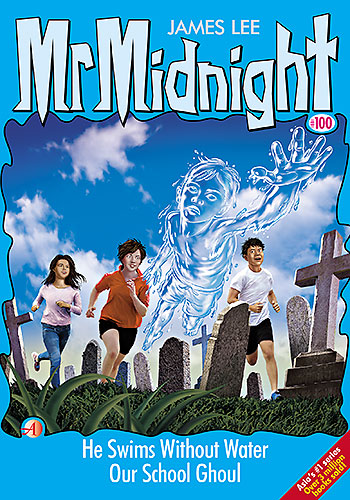 MR MIDNIGHT is one of the longest-running book series in the world. This latest is the 100th, giving readers so much to enjoy. James Lee also pens another Mr Mystery – the 30th! Reading Mr Midnight and Mr Mystery adds spice to your school holidays!
Mr Midnight #100
James Lee
Book #100
STORY #1: When Wilkin Tan and his friends follow a trail of wet footprints outside their school library, they discover the ghost of someone who died by drowning. We dare you to read HE SWIMS WITHOUT WATER — without fear!
STORY #2: What really happens in your school at midnight? Do terrifying ghosts come out of hiding? Read what happens when Livia Liem and her friends come face to face with OUR SCHOOL GHOUL.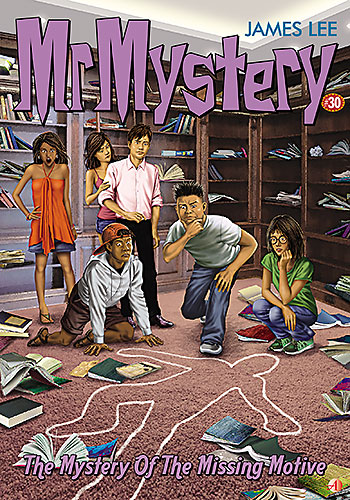 Mr Mystery #30
James Lee
The Mystery Of The Missing Motive
Who murdered billionaire Marcus Wong? Why weren't his art treasures stolen? Did  Wong's killer have a more mysterious motive in mind? When Marcus Wong is murdered, the only thing missing is a motive. Then, two more murders make the case more baffling. But Alvin Soh never gives up! What did Wong's killer really want? When will he strike again? And will Alvin be his next victim?
ONLY MR MYSTERY KNOWS!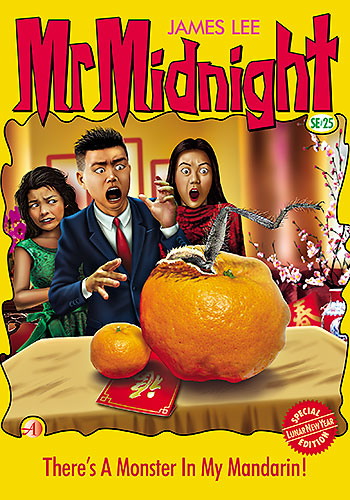 GIVE yourself a treat over the Chinese New Year holidays and read the latest MR MIDNIGHT and MR MYSTERY books. There are two books — MR MIDNIGHT LUNAR NEW YEAR SPECIAL EDITION SE#25 and MR MYSTERY #29. Join millions from all over Asia who love the James Lee books. And don't forget to buy the books missing from your Mr Midnight and Mr Mystery collections.
Mr Midnight Lunar New Year Special Edition SE#25
James Lee
There's A Monster In My Mandarin!
EVERY Lunar New Year, Arabella Ang loves eating mandarin oranges — but what happens when she finds monsters inside them? Suddenly she and her friends Brianna Boey and Flynn Ho are plunged into one horror after another. Where are the haunted mandarins coming from? And what terrifying power is behind them? Make sure you have the luckiest book in town — THERE'S A MONSTER IN MY MANDARIN — only from Mr Midnight!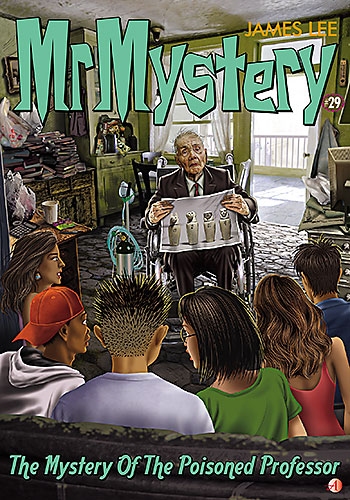 Mr Mystery #29
James Lee
The Mystery Of  The Poisoned Professor
WHO murdered Professor Phua? Was it his young assistant? Or was the professor the victim of a killer in search of ancient Egyptian relics? When a young man begs Alvin to prove his innocence, Soh & Co are plunged into one of their most mysterious cases. Confusing clues, curious twists and turns, thwart them at every step. Who tried to attack Wei Ling? Will the killer strike again? And where are the missing relics?
ONLY MR MYSTERY KNOWS!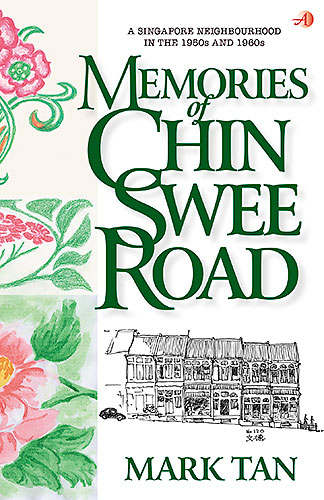 MARK TAN, author of China Roots, continues telling stories of old Singapore...
Memories Of Chin Swee Road
Mark Tan
THIS book takes a look back at life in the 1950s and 1960s in the Chin Swee Road enclave. The author recounts the many characters in the drama that unfolded in this neighbourhood, set against the backdrop of a rapidly modernizing Singapore. With the help of sketches and maps drawn from memory, the author's detailed narrative of street life is a contribution to the continuing Singapore story. These vignettes will jog memories of older readers, and hopefully more will be inspired to tell their own stories for the record. For youngsters, this book is a window to bygone days. Young or old, we all need answers to perennial questions about our sense of belonging and our roots. Memories of Chin Swee Road aims to help in this quest.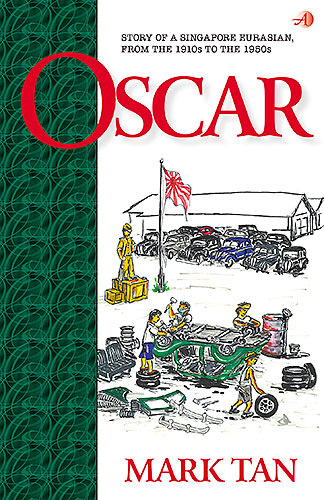 Oscar
Mark Tan
OSCAR was a Eurasian who was born in Singapore in 1917, and this story follows his antics as a youth without much benefit of adult supervision. He later encounters life, as many will never experience, when a country is at war. It includes his stint as a gaoler in Outram Prison overseeing prisoners facing torture and death during the Japanese occupation. This dispassionate but detailed account conveys the comedy of life amidst the immediacy of terror during those years. It is a story of friendships, relationships and human frailties under intense stress. Oscar's story, retold from a unique perspective, provides graphic lessons of an almost forgotten past. It is also a chapter of the Singapore story narrative.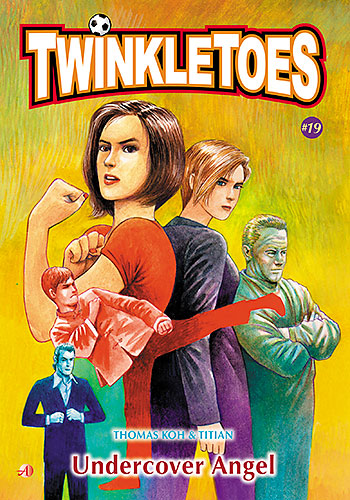 TWINKLETOES is fun, inspirational, educational and simply magical!
Twinkletoes #19:
Undercover Angel
Thomas Koh and Titian
BETWEEN starring in a television miniseries and training for the quarter-finals of the National Championship, Hock Ann is on a roll. Just when things couldn't be better, one of the living legends in the soccer world shows up to coach and inspire the Morrison High team. After a nail-biting quarter-final, Morrison High teachers Vanessa and Emma head to the hills for the weekend. But instead of having the relaxed time they've been looking forward to, they end up helping the police bring down a criminal mastermind.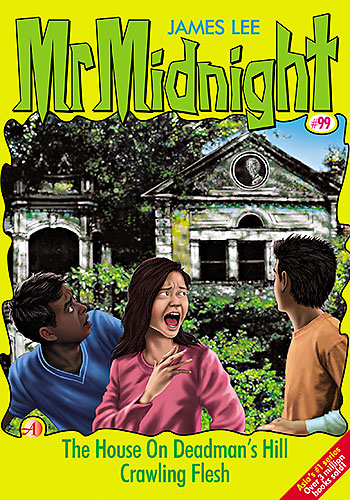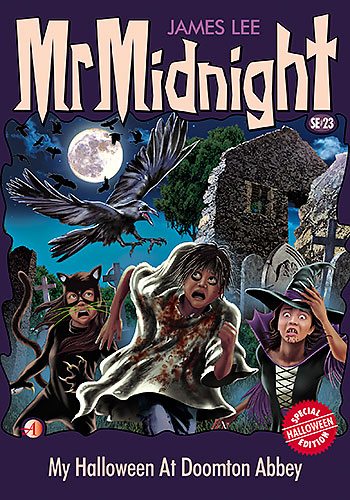 TRICK OR TREAT? James Lee, Asia's top children's author, has a double treat this HALLOWEEN season! There's MR MIDNIGHT #99. And the second treat: MR MIDNIGHT HALLOWEEN SPECIAL EDITION SE#23. Exams are over and it's time to chill with James Lee books!
Mr Midnight #99 and Mr Midnight Halloween Special Edition SE#23
James Lee
Book #99
STORY #1: Taylor Ong and his friends explore a ruined mansion built on an ancient graveyard — THE HOUSE ON DEADMAN'S HILL. The only problem is, the ghost of its evil owner, Ser Hong Ho, is still hiding inside!
STORY #2: What kind of lump grows under your skin and vibrates? Where does it come from? Can it be cured — or is it supernatural? Lily Rose Zhang has to battle secret forces to save her friend from CRAWLING FLESH. We dare you to discover the terrifying truth!
Book SE#23
WHAT'S the most evil, haunted place in the afterworld? A place where ghosts are more weird, more scary, and more dangerous than anywhere else? It's called Doomton Abbey — and it's where dead spirits take kids like Marisa Mun for Halloween. Find out what happens in MY HALLOWEEN AT DOOMTON ABBEY — Mr Midnight's newest twisted tale of terror.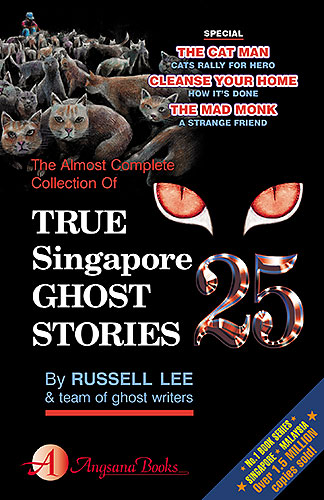 True Singapore Ghost Stories Book 25
Russell Lee
ARE you worried evil spirits lurk in your home? Russell Lee reveals the many religious rituals used to "cleanse" homes. Also read about "The Cat Man", the saviour of thousands of cats. The cats repay their hero in the most unusual way. Must-read stories include "Nama Saya Iblis", Golden Oldies, A Talking Head, Midnight Matchmaker, Taken, Blue Jeans Dream.
"Russell Lee's True Singapore Ghost Stories has been a mainstay on Singapore bestseller lists since they hit shelves in 1989."
— The Straits Times (2017)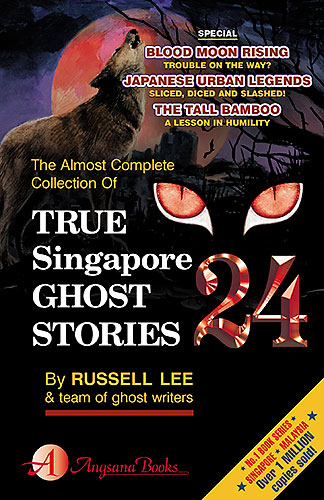 True Singapore Ghost Stories Book 24
Russell Lee
IS THE blood moon a sign of the end of the world? Russell Lee investigates. And read about Japanese urban legends that tell of vengeful spirits that slice, dice and slash! Plus, the "Japan's Sacred Regalia" trilogy reaches a climax. Must-read stories include Arrival At Kallang Airport, "Tian Mi Mi", Brunei Dollars, The Curse Of Kohinoor, Nasi Lemak Special, Angel Of Hope.
"Russell Lee is Singapore's most popular writer by a long stretch. His prose is clear and his titles snappy." — South China Morning Post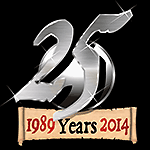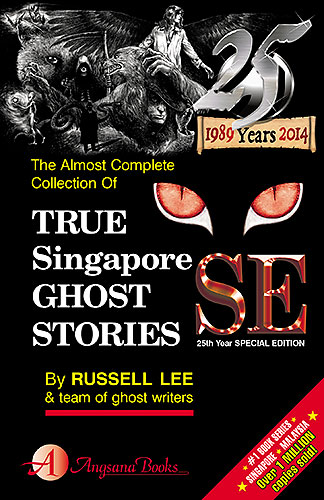 RUSSELL LEE celebrates 25 years of storytelling
True Singapore Ghost Stories
25th Year Special Edition
Russell Lee
IN THIS special True Singapore Ghost Stories 25th Year Special Edition, Russell Lee recalls the stories that have charmed and entertained generations for a quarter of a century. This book contains nothing less than the supernatural heritage of Singapore and Malaysia. Read your favourite stories in one special book, and celebrate this milestone with Russell Lee. Well-loved TRUE stories include Teacher's Pet, The Poor Rich Man, The Third Eye, A-Li-Shan De Gu Niang, Japanese Girl From Hell, The Rich Poor Man, The Si Lang Keng, Tour Packages For Sale and Raphael.
"The True Singapore Ghost Stories speaks to the Singapore psyche."
— Channel NewsAsia
James Lee Wins Top Award
ASIA's top children's author James Lee has won the inaugural "Australian Arts in Asia Awards" for his Mr Midnight and Mr Mystery series. See footage of the presentation and speech at the awards ceremony.

Australian Arts in Asia Awards Winner — Literature:
James Aitchison — Mr Midnight / Mr Mystery book series
The content and graphics contained in this site are copyright
© 2022 Flame Of The Forest Publishing Pte Ltd. All rights reserved.