What's New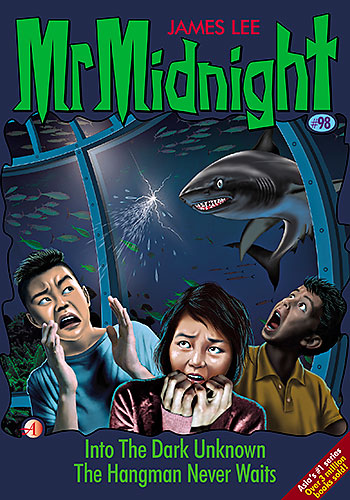 MR MIDNIGHT must be one of the longest-running book series in the world. This is the 98th book and readers are spoilt for choice. James Lee also pens another Mr Mystery – the 27th! Reading Mr Midnight and Mr Mystery adds a bit of spice to your school holidays!
Mr Midnight #98
James Lee
Book #98
STORY #1: Penny Sng, Kashwin, and Shawn Kwek are trapped in a diving bell. And the deeper they sink INTO THE DARK UNKNOWN, the more horrors they face. Will they ever escape from the ocean monsters?
STORY #2: Dorian Tan and his ghost-spotting friends visit an old abandoned prison with a haunted gallows. There, amid the ghosts of the evil dead, they discover that THE HANGMAN NEVER WAITS.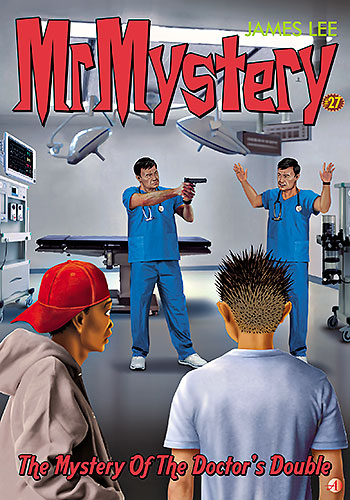 Mr Mystery #27
James Lee
The Mystery Of The Doctor's Double
Does Dr Eugene Chan really have a double? Why is he being impersonated? Is someone setting up the famous heart surgeon for a crime he did not commit? Alvin Soh is in all kinds of trouble. Not only do desperate criminals want Alvin silenced, but the doctor's beautiful daughter spells even more danger! Who is plotting against Dr Chan? Will Alvin stop a deadly trap? And where is Sergeant Soo when he's needed?
ONLY MR MYSTERY KNOWS!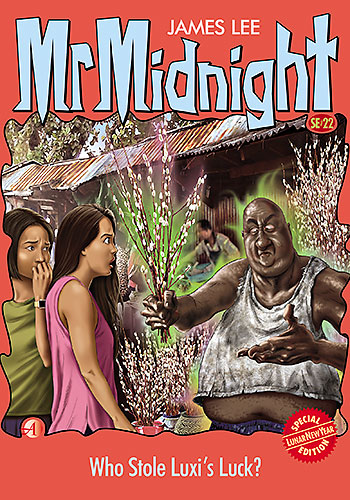 GIVE yourself a treat over the Chinese New Year holidays and read the latest MR MIDNIGHT books. There are two books — the LUNAR NEW YEAR SPECIAL EDITION, SE#22 and MR MIDNIGHT #97. Join millions from all over Asia who love the James Lee books. And don't forget to buy the books missing from your Mr Midnight and Mr Mystery collections.
Mr Midnight Lunar New Year Special Edition SE#22 and Mr Midnight #97
James Lee
Book SE#22
SCHOOLGIRL Wang Luxi loves Lunar New Year — greeting all her cousins, opening red packets, and eating all the festive treats! But this year a strange supernatural power invades her life. And it's worse than any ghost she could ever imagine. WHO STOLE LUXI'S LUCK? Can she and her friends Tami and Lian Wen reverse a diabolical spell? Make sure you have a frighteningly good New Year with the luckiest book in town — from Mr Midnight!
Book #97
STORY #1: Wong Chen Cheng's school vacation on Australia's Gold Coast becomes a living nightmare! Sinister snakes, weird trees that grew on the South Pole millions of years ago — and monster insects. Will he and his friends survive the MOUNTAIN OF MADNESS?
STORY #2: Ghost Getter Lynnette Foong visits an abandoned garage where a haunted bus has been hidden for years. It's not just any bus, but THE BUS THAT NEVER CAME BACK.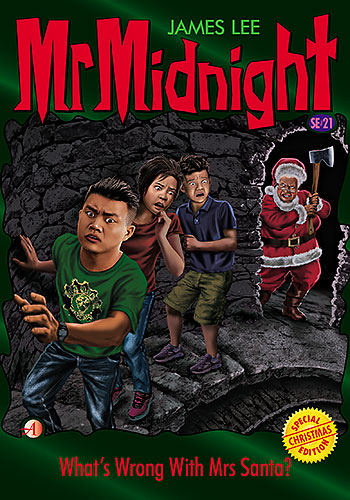 MERRY CHRISTMAS and a HAPPY NEW YEAR! James Lee presents a new Mr Midnight for the holiday season. And remember to get any missing books in your JAMES LEE collection!
Mr Midnight Christmas Special Edition SE#21
James Lee
What's Wrong With Mrs Santa?
WHAT could be more fun than Christmas? But wait — something evil lurks in Kong Chern Lee's favorite shopping mall. There's terror amid the tinsel! It's Santa's wife — something is wrong with her, and unless Chern Lee and his friends can stop her, Christmas will be a disaster. What hideous horrors has she got up her sleeve? What are the deadly secrets hiding in Santa's castle? We dare you to find out WHAT'S WRONG WITH MRS SANTA? Only Mr Midnight delivers more holiday horrors on every page!
TWINKLETOES is fun, inspirational, educational and simply magical!
Twinkletoes #18:
Yamashita's Gold
Thomas Koh and Titian
THE Morrison players are sent to a boot camp to prepare for the fast approaching National Championship. During their gruelling training, they have a surprise encounter that shows them the fleeting nature of success and the importance of holding on to good relationships. And when 13-year-old Jasmine opens a Facebook account for the first time, she gets more than she bargained for. Far from being a way to keep up with her friends, it turns out to be a dangerous experience. Fortunately she has a teacher on her side to help her navigate the tricky world of social media.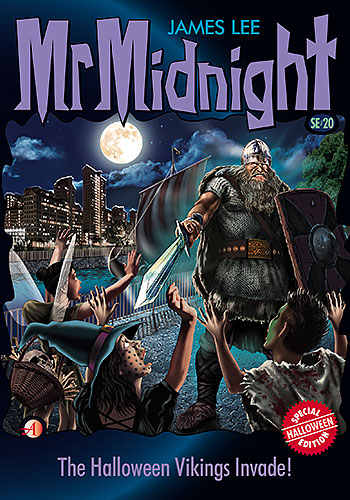 TRICK OR TREAT? James Lee, Asia's top children's author, has a special treat this HALLOWEEN season — MR MIDNIGHT HALLOWEEN SPECIAL EDITION SE#20. Exams are over and it's time to chill with Mr Midnight and Mr Mystery books!
Mr Midnight Halloween Special Edition SE#20
James Lee
The Halloween Vikings Invade!
IS IT TRUE — do the dead come out of their graves on Halloween? Do ghouls and ghosts walk the earth in search of victims? Royston Goh and his friends decide to find out. But when they explore the local park, they discover ghostly Vikings are invading their city. Find out what happens when THE HALLOWEEN VIKINGS INVADE! It's Mr Midnight's latest tale of terror.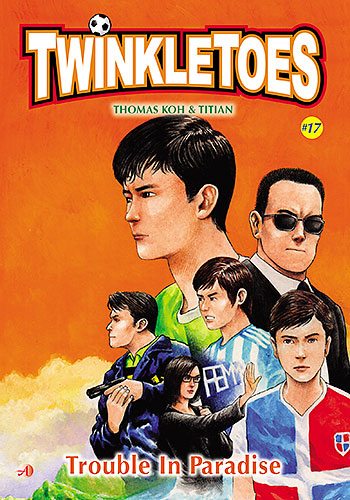 TWINKLETOES is fun, inspirational, educational and simply magical!
Twinkletoes #17:
Trouble In Paradise
Thomas Koh and Titian
MORRISON HIGH welcome Diego, a superstar and dear friend. Despite Diego's support, the team suffers a setback, bringing team captain Hock Ann to tears. Wenrou cheers him up with a dream holiday-plus-work trip to Hawaii. While Wenrou prepares to make her debut in the world of high fashion in Honolulu, Hock Ann finds himself tracking down a dangerous criminal. Hock Ann's instincts, sharpened on the soccer pitch, prove useful in critical situations. Hock Ann and Wenrou also make new friends and have ample time for sun, sand and sea in the paradise islands...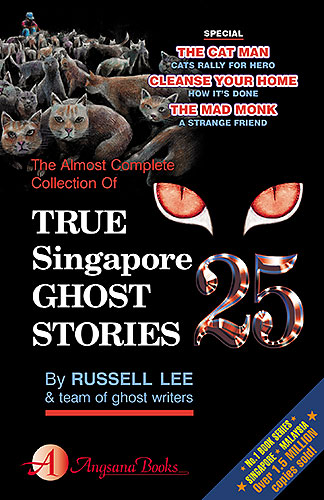 True Singapore Ghost Stories Book 25
Russell Lee
ARE you worried evil spirits lurk in your home? Russell Lee reveals the many religious rituals used to "cleanse" homes. Also read about "The Cat Man", the saviour of thousands of cats. The cats repay their hero in the most unusual way. Must-read stories include "Nama Saya Iblis", Golden Oldies, A Talking Head, Midnight Matchmaker, Taken, Blue Jeans Dream.
"Russell Lee's True Singapore Ghost Stories has been a mainstay on Singapore bestseller lists since they hit shelves in 1989."
— The Straits Times (2017)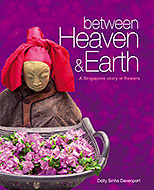 Between Heaven And Earth
A Singapore Story In Flowers
Dolly Sinha Davenport
DOLLY SINHA DAVENPORT arrived in Singapore as a bride in the 1960s. Settling into her new life and a new home, she was encouraged to pursue her passion in floral design. Being a botanist, she took to the art like a duck to water. She was taught Sogetsu and Ikebana but true to her feisty character, Dolly developed her own pragmatic style — due in no small part to the myriad influences surrounding her in her adoptive country. In this book, Dolly expresses herself through floral arrangements. Her story is intricately tied to Singapore's — the years after World War II, the fight for independence, Singapore's merger with Malaysia and its subsequent separation. She was transfixed as she witnessed kampongs give way to a metropolis. True to the spirit of her endeavour, Dolly uses only flowers found in Singapore. The designs reflect a multiracial Singapore. She also draws inspiration from high-rise dwellings, the bygone kampongs and Singapore's almost 200-year botanical heritage. This book is a Singapore story, told in flowers. And the backdrop is the Singapore story — from the days of Singapore's founder, Sir Stamford Raffles, to the architect of modern Singapore, Mr Lee Kuan Yew; and from Raffles' functional botanic gardens to Mr Lee's vision of "a Garden City", now evolved into the idea of "a City in a Garden".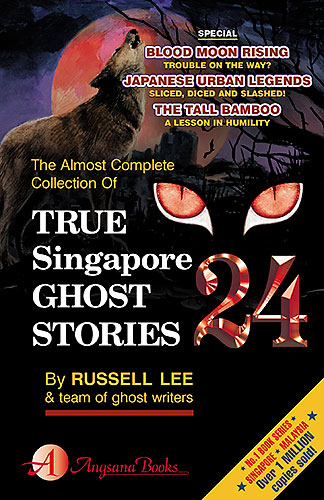 True Singapore Ghost Stories Book 24
Russell Lee
IS THE blood moon a sign of the end of the world? Russell Lee investigates. And read about Japanese urban legends that tell of vengeful spirits that slice, dice and slash! Plus, the "Japan's Sacred Regalia" trilogy reaches a climax. Must-read stories include Arrival At Kallang Airport, "Tian Mi Mi", Brunei Dollars, The Curse Of Kohinoor, Nasi Lemak Special, Angel Of Hope.
"Russell Lee is Singapore's most popular writer by a long stretch. His prose is clear and his titles snappy." — South China Morning Post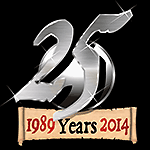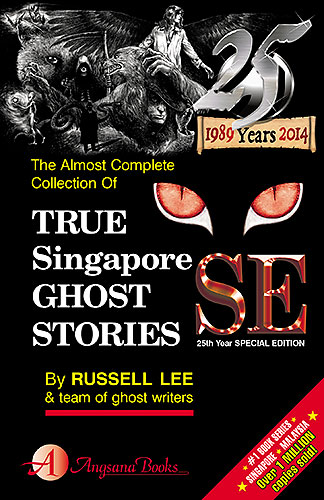 RUSSELL LEE celebrates 25 years of storytelling
True Singapore Ghost Stories
25th Year Special Edition
Russell Lee
IN THIS special True Singapore Ghost Stories 25th Year Special Edition, Russell Lee recalls the stories that have charmed and entertained generations for a quarter of a century. This book contains nothing less than the supernatural heritage of Singapore and Malaysia. Read your favourite stories in one special book, and celebrate this milestone with Russell Lee. Well-loved TRUE stories include Teacher's Pet, The Poor Rich Man, The Third Eye, A-Li-Shan De Gu Niang, Japanese Girl From Hell, The Rich Poor Man, The Si Lang Keng, Tour Packages For Sale and Raphael.
"The True Singapore Ghost Stories speaks to the Singapore psyche."
— Channel NewsAsia
James Lee Wins Top Award
ASIA's top children's author James Lee has won the inaugural "Australian Arts in Asia Awards" for his Mr Midnight and Mr Mystery series. See footage of the presentation and speech at the awards ceremony.

Australian Arts in Asia Awards Winner — Literature:
James Aitchison — Mr Midnight / Mr Mystery book series
The content and graphics contained in this site are copyright
© 2019 Flame Of The Forest Publishing Pte Ltd. All rights reserved.