Early Readers
Mouse Deer And Crocodile
John and Kathy Morris
AN EVERGREEN Asian folk tale retold with award-winning illustrations. For kids aged four to seven. A visual treat that will help readers appreciate the tropical rainforests of Southeast Asia. One of the finest children's books ever to be produced.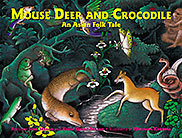 Jumping Mouse And The Great Mountain
John and Kathy Morris
A NATIVE American tale about the search by Mouse for a greater purpose in its existence. Tired of the daily grind, Mouse sets off on a journey fraught with peril. The message in the story is simple, universal and timeless: Love over selfishness. Absorbing illustrations by Charley Burns.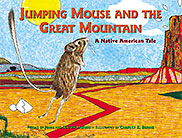 Jasper and the Wish-Wish Bears
Jane Walker
IMAGINE yourself in charge of a wish... Use your imagination and you can bend it and shape it, stretch it and follow it far. The Wish-Wish Bear stories are based around childhood experiences: innocent, charming, zany. Everything is possible with the exploration of play, the fun of friendship and the desire to watch and learn. The Wish-Wish Bears live on Wish-Wish Bear Island, a place where wishes, hopes and dreams really can come true. These special bear friends are funny, inquisitive and energetic. Sometimes naughty they are just like children: exploring and discovering life through limitless antics. The books will include environmental themes in a fun way, keeping a caring, positive environmental message. Jane Walker's vibrant, original illustrations in water colour inks have instant appeal: they illuminate the charm and personality of these lovable characters. The Wish-Wish Bears encourage creativity in children's imaginations, making dreams come alive through play. The unique charm and appeal of the bears can reach out to entire families globally.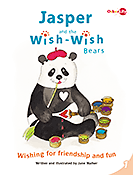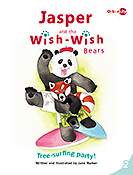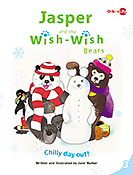 Book 1: Wishing For Friendship And Fun
POGO the polar bear visits Jasper the panda and friends on the Sunny Side of Wish-Wish Bear Island. But how will a bear who loves the cold and his ice-cream fare in the heat? Trust the Wish-Wish bears to prevent a total meltdown.
Book 2: Tree-surfing Party!
SURF's up! Pogo the polar bear can't wait to get to the Sunny Side of Wish-Wish Bear Island. He has a play day with Jasper the giant panda and friends. The bears have a rip-roaring time as they swish and swirl down their treetop water slide. But how will the Wish-Wish bears help shy Suki climb to the top?
Book 3: Chilly Day Out!
THE bears venture into the Chilly Side of Wish-Wish Bear Island. Watch out for a zippy snowmobile, tai qi penguins and the biggest fishy catch ever — by guess who? The Wish-Wish Bears are ready for some chilly-cool fun.
The Real Singapore Cinderella
Jemima Rajan
WITH stories such as "The Real Singapore Cinderella" and "Witches and Warriors", 12-year-old Jemima Rajan takes you into her witty and wacky world both young and old are sure to enjoy. Singapore's youngest published author.

The content and graphics contained in this site are copyright
© 2021 Flame Of The Forest Publishing Pte Ltd. All rights reserved.