What's New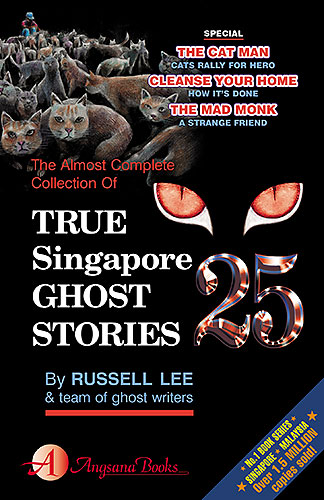 True Singapore Ghost Stories Book 25
Russell Lee
ARE you worried evil spirits lurk in your home? Russell Lee reveals the many religious rituals used to "cleanse" homes. Also read about "The Cat Man", the saviour of thousands of cats. The cats repay their hero in the most unusual way. Must-read stories include "Nama Saya Iblis", Golden Oldies, A Talking Head, Midnight Matchmaker, Taken, Blue Jeans Dream.
"Russell Lee's True Singapore Ghost Stories has been a mainstay on Singapore bestseller lists since they hit shelves in 1989."
— The Straits Times (2017)
THE holidays are coming! Time to chill out — grab the latest Mr Midnight and Mr Mystery books. Join the millions of readers from all over Asia who love James Lee. Take advantage of the promotions to buy the copies that are missing from your Mr Midnight and Mr Mystery collections.
Mr Midnight #94
James Lee
Book #94
STORY #1: Daliya Osman and her friends go wandering in a small village in the jungle. When a storm breaks out, they take cover in a spooky derelict house. It appears deserted — until Daliya sees THE FACE IN THE WINDOW.
STORY #2: Schoolboy Wilbur Pang believes he will see ghosts in an old abandoned cemetery. But what he finds is the creepiest horror of his life. Join Wilbur and discover THE CEMETERY'S SECRET.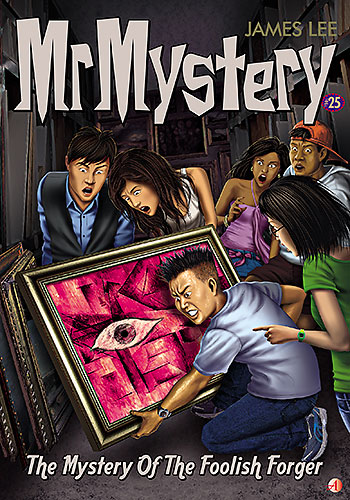 Mr Mystery #25
James Lee
The Mystery Of The Foolish Forger
WHO was shot in the art gallery? What was he doing there at midnight? Was the murderer paid to kill him to protect a deadly secret? Alvin's team of investigators is hired to find a missing man. But what seems a simple case soon turns into a double mystery. Don't miss Soh & Co's baffling new journey into the art of murder! Who stole the famous Picasso painting? Why is the art gallery owner lying? What is the secret that unlocks the case? ONLY MR MYSTERY KNOWS!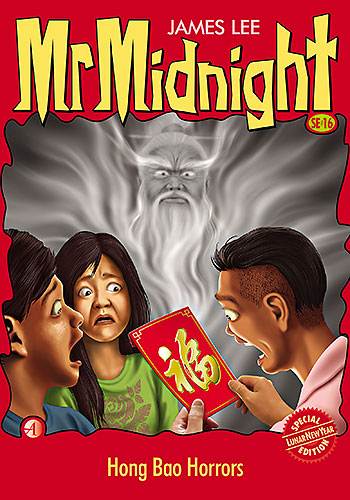 WHAT better way to spend the Chinese New Year holidays than to read the latest Mr Midnight and Mr Mystery books. The MR MIDNIGHT series sees the release of a new LUNAR NEW YEAR SPECIAL EDITION, SE#16. Join the millions of readers from all over Asia who love to read James Lee. And don't forget to buy the copies that are missing from your list so that you can complete your Mr Midnight and Mr Mystery collections.
Mr Midnight Lunar New Year Special Edition SE#16
James Lee
Hong Bao Horrors
CALEB KOH opens a hong bao and finds an ancient curse inside. Before you can say "Gongxi gongxi," Caleb and his friends are traveling back in time to the famous Shaolin Temple. Can they save the Great Scroll of Shaolin from falling into the wrong hands? Find out — in the luckiest book you'll read this Lunar New Year!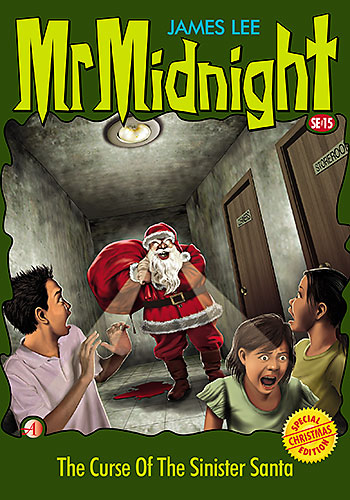 MERRY CHRISTMAS and a Happy New Year! These new books are specially for the holiday season. It's as good a time as any to complete your JAMES LEE collection!
Mr Midnight Christmas Special Edition SE#15
James Lee
The Curse Of The Sinister Santa
CALISTA JEE and her friends meet a sinister Santa Claus at their local shopping mall. And that's when their horrors begin! The Santa is really a ghost with super powers who places a curse on them. And no matter how hard they try to escape him, the evil ghost taunts them wherever they go. From spooky parks to scary train tunnels, Calista's holiday horrors keep mounting. Will she and her friends have a happy Christmas?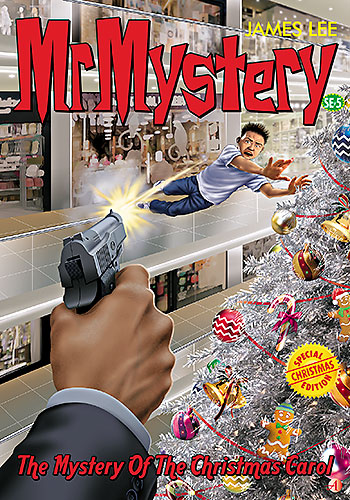 Mr Mystery Christmas Special Edition SE#5
James Lee
The Mystery Of The Christmas Carol
WHY was a gangster shot on Christmas night? Why was a bank blown up the next day? Why does every new day bring a daring new crime that grips the city in fear? "The Twelve Days of Christmas" — once a popular Christmas carol. Now it becomes a deadly crime wave that pits Alvin Soh and his investigators against the mysterious Bamboo Dragons. What really happened to The Snake? Who is the mysterious Dragonhead? Can Alvin stop the city's worst crime wave? ONLY MR MYSTERY KNOWS!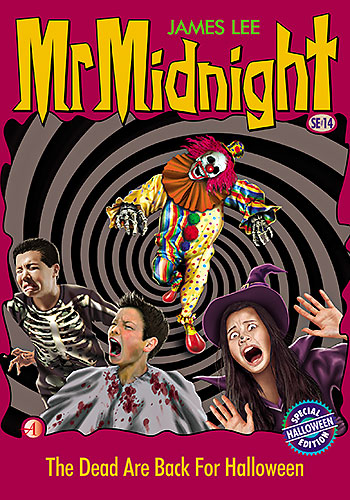 TRICK OR TREAT? James Lee, Asia's top children's author, has a special treat this HALLOWEEN season — MR MIDNIGHT HALLOWEEN SPECIAL EDITION SE#14. Exams are over and it's time to chill with Mr Midnight and Mr Mystery books!
Mr Midnight Halloween Special Edition SE#14
James Lee
RANDAL CHIN's first Halloween party is supposed to be fun. But it isn't! In the darkest corners of the Deadworld, vicious ghosts and lost souls decide to invade it. Soon, Randal and his friends wish they'd never heard of Halloween as ghoulish creatures play trick-or-treat with them! Yes, THE DEAD ARE BACK FOR HALLOWEEN and they're looking for people like — you!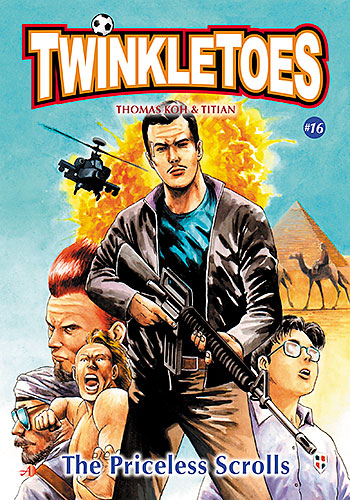 EVERYBODY is reading TWINKLETOES. It's entertaining, educational and inspirational!
Twinkletoes #16:
The Priceless Scrolls
Thomas Koh and Titian
MORRISON principal Billy Chin goes above and beyond the call of duty when Dilton Loh's father gets into trouble with loan sharks because of his gambling addiction. Dilton and his mother are innocent victims when the thugs demand repayment. Mr Chin, a former elite soldier, steps in to help.
Meanwhile, the Morrison football team is invited to play a friendly match in Egypt! In Cairo, professional thieves attempt to steal a priceless treasure, threatening to kill anyone who gets in their way. Once again, Billy Chin intervenes to keep the artifact from the Egyptian Museum safe.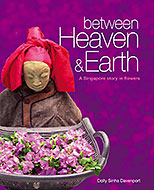 Between Heaven And Earth
A Singapore Story In Flowers
Dolly Sinha Davenport
DOLLY SINHA DAVENPORT arrived in Singapore as a bride in the 1960s. Settling into her new life and a new home, she was encouraged to pursue her passion in floral design. Being a botanist, she took to the art like a duck to water. She was taught Sogetsu and Ikebana but true to her feisty character, Dolly developed her own pragmatic style — due in no small part to the myriad influences surrounding her in her adoptive country. In this book, Dolly expresses herself through floral arrangements. Her story is intricately tied to Singapore's — the years after World War II, the fight for independence, Singapore's merger with Malaysia and its subsequent separation. She was transfixed as she witnessed kampongs give way to a metropolis. True to the spirit of her endeavour, Dolly uses only flowers found in Singapore. The designs reflect a multiracial Singapore. She also draws inspiration from high-rise dwellings, the bygone kampongs and Singapore's almost 200-year botanical heritage. This book is a Singapore story, told in flowers. And the backdrop is the Singapore story — from the days of Singapore's founder, Sir Stamford Raffles, to the architect of modern Singapore, Mr Lee Kuan Yew; and from Raffles' functional botanic gardens to Mr Lee's vision of "a Garden City", now evolved into the idea of "a City in a Garden".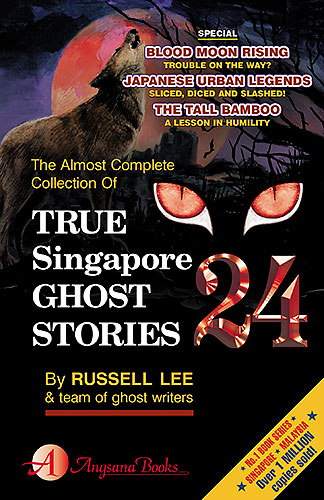 True Singapore Ghost Stories Book 24
Russell Lee
IS THE blood moon a sign of the end of the world? Russell Lee investigates. And read about Japanese urban legends that tell of vengeful spirits that slice, dice and slash! Plus, the "Japan's Sacred Regalia" trilogy reaches a climax. Must-read stories include Arrival At Kallang Airport, "Tian Mi Mi", Brunei Dollars, The Curse Of Kohinoor, Nasi Lemak Special, Angel Of Hope.
"Russell Lee is Singapore's most popular writer by a long stretch. His prose is clear and his titles snappy." — South China Morning Post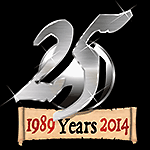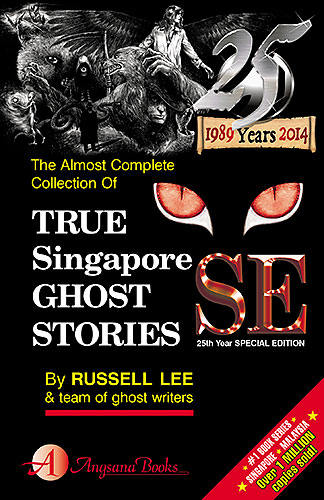 RUSSELL LEE celebrates 25 years of storytelling
True Singapore Ghost Stories
25th Year Special Edition
Russell Lee
IN THIS special True Singapore Ghost Stories 25th Year Special Edition, Russell Lee recalls the stories that have charmed and entertained generations for a quarter of a century. This book contains nothing less than the supernatural heritage of Singapore and Malaysia. Read your favourite stories in one special book, and celebrate this milestone with Russell Lee. Well-loved TRUE stories include Teacher's Pet, The Poor Rich Man, The Third Eye, A-Li-Shan De Gu Niang, Japanese Girl From Hell, The Rich Poor Man, The Si Lang Keng, Tour Packages For Sale and Raphael.
"The True Singapore Ghost Stories speaks to the Singapore psyche."
— Channel NewsAsia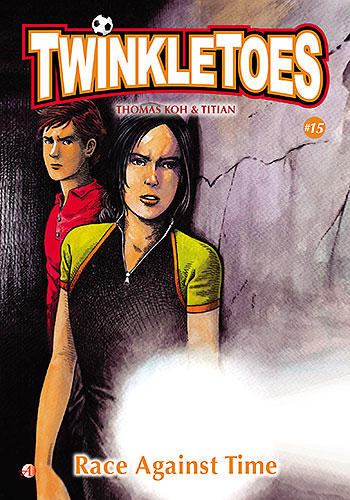 GET your kicks from reading TWINKLETOES!
Twinkletoes #15:
Race Against Time
Thomas Koh and Titian
MORRISON's taekwondo champion Kim Chul Moo might be a martial arts expert, but he's fighting a real-life battle that he's losing badly. Meanwhile, Morrison High play a vital match against the fancied Marsiling View Secondary. It's a match they simply can't afford to lose. And Leandro and Jasmine take part in The Astonishing Race Singapore, where they compete against the brightest and fittest students on the island. Finally, the Morrison gang find themselves in a desperate race against time to save a child's life!
James Lee Wins Top Award
ASIA's top children's author James Lee has won the inaugural "Australian Arts in Asia Awards" for his Mr Midnight and Mr Mystery series. See footage of the presentation and speech at the awards ceremony.

Australian Arts in Asia Awards Winner — Literature:
James Aitchison — Mr Midnight / Mr Mystery book series
The content and graphics contained in this site are copyright
© 2017 Flame Of The Forest Publishing Pte Ltd. All rights reserved.