Coffee Table Books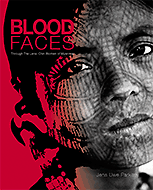 Blood Faces
Through The Lens: Chin Women Of Myanmar
Jens Uwe Parkitny
JENS UWE PARKITNY's lenses draw us up close to the women from the tribal groups who dwell mostly in the Chin and Rakhine states in Myanmar. His collection of intimate photographs unveils not only the variety of delicate tattoo patterns, but, more importantly, the innate strength and courage of these women who sat in pain, enduring the needlework. Jens' ability to capture on film the essence and soul of each woman is remarkable, and with tattoos being a fast-vanishing tradition among the Chin, this documentation is a timely celebration of the beauty and dignity of these women.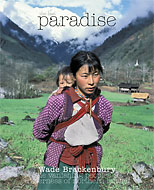 The Last Paradise On Earth
The Vanishing Peoples & Wilderness Of Northern Burma
Wade Brackenbury
AMID the ring of ancient snowy peaks that encapsulate the many heads of the Irrawaddy River, an area that falls primarily in Burma, lives a group of unique people indigenous to this region. The remote landscape they call home may seem pristine but this tranquility is under immediate threat. Since its independence in 1948, Burma has been ravished by near continuous civil war and ethnic conflict, leading to the loss of thousands of lives. Communities have been destroyed, families uprooted, and poverty and illness have wracked the country. Despite the conflict, the remaining inhabitants carry on their existence peacefully. Through memorable, never-seen-before pictures in a photographic diary of his travels, writer and explorer Dr Wade Brackenbury tells the poignant tales of the individuals he has met in his journey. He recounts the fascinating story of the Christianisation of the people, and outlines the region's geography and history, examining what the future holds for a part of this world he has come to love. In his sensitive portrayals, Wade shares a privileged insight into what is perhaps the last paradise on earth.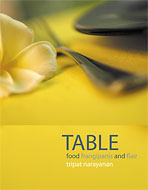 Table
Food, Frangipanis And Flair
Tripat Narayanan
THE elegant TABLE is the result of Tripat Narayanan's love for whipping up hearty, flavourful fare and passion for entertaining — in style. Her creative recipes, whether for a sophisticated ayurvedic dinner menu or a speedy spaghetti dish for a family meal, are surprisingly easy to prepare. Tripat draws on the cooking style of her Indian heritage but brings into her kitchen robust tastes from Italy, Spain and, naturally, her birthplace, Malaysia. In this book, you'll find a variety of dishes ranging from lamb kurma to spicy coconut-marinated fried chicken and saffron risotto. Helpful decor and serving tips, a wine guide, and shortcuts to transform simple fare to a delectable feast make TABLE a must-own cookbook and style guide.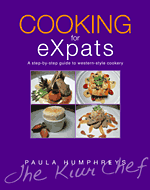 Cooking For eXpats
Paula Humphreys
A COMPREHENSIVE guide to western-style cookery, Cooking for Expats has tips on techniques of cooking, hygiene, use of utensils, food handling and food purchasing. Accompanying the recipes are almost 1,000 photos that explain each recipe step by step. A color-coded format makes the book easy to use. A unique index at the end uses more than 150 photos. Simple vocabulary is used throughout. The author, Paula Humphreys, comes from a family of bakers and chefs. In Singapore, she provided catering services for the New Zealand High Commission and her cooking classes were in high demand. Known fondly as The Kiwi Chef, Paula has worked in award-winning restaurants and advised private vineyard restaurants around Christchurch, New Zealand. Paula, who loves art and photography, is now based in the United States.
Check this website www.kiwichef.com.sg for more details.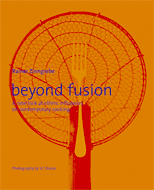 Beyond Fusion
Rainer Zinngrebe
IN THIS book for contemporary cooks, Rainer Zinngrebe demonstrates his easy expertise in the often misinterpreted field of fusion cuisine. With his talent, he uniquely develops his signature cuisine — taking the usual Pan-Asian themes and taking them to a new level with his classical European background, as well as extensive experience in Asia and the US. Ideas and ingredients from different food cultures are fused to create recipes that succeed to tease and thrill the taste buds. In Beyond Fusion, you will find balanced portions of taste, texture and technique that transcend traditional ethnic boundaries. Dishes such as Tandoori Paneer Vegetable Ravioli, Pan-Seared Black Cod Fillet with Sun-Dried Tomato Sambal, XO Sauce and Miso Jus, and Pandan Tiramisu are as vividly pleasing to the eye as they are to the palate.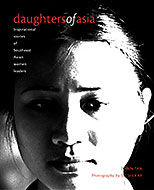 Daughters Of Asia
Inspirational Stories of Southeast Asian Women Leaders
Dawn Tan
IN THIS book, the first of its kind anywhere in the world, women leaders of Southeast Asia recount their life journeys in poignant portraits that will at once make you laugh and make you cry. Through candid interviews across the region, these women have come together with one common voice to share their stories in support of the empowerment of the Asian woman. This book is an inspiring collection of stories of hope, courage and adventure. At times they are the stories of all-out determination to survive against the odds of social oppression, war, imprisonment and even torture. They will redefine the way we look at the evolution of the daughters of Asia. The women leaders also share their favourite recipes in this book. With over 25 recipes from 10 countries, you'll be able to go on a culinary adventure of the region! They include Indonesian President Megawati's beef jerky as well as Filipino President Gloria Arroyo's beef in tomato sauce. The spectacular photography also takes you around Southeast Asia — from the cool foothills of the Himalayas in north Myanmar to hot, sunny Singapore and the vibrant streets of Hanoi. The visual imagery is vibrant, varied and will leave a deep, lasting impression of the peoples, terrain and foods of the region.
The content and graphics contained in this site are copyright
© 2012 Flame Of The Forest Publishing Pte Ltd. All rights reserved.